September 30th, 2008
I thought I'd take some time out of my busy schedule to dally, and talk about my inspiration.  I've been trying to improve my art and all, and you might be interested in learning what's made me do what I do and what makes me keep wanting to be better.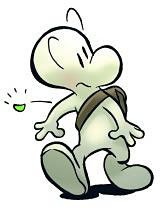 One of the first true inspirations, one where I've really first taken a step back from the comic to admire the art, was Jeff Smith's Bone.  I first started reading probably in fifth grade, when Disney Adventures did a Bone run in one of its issues. I had a childlike admiration for the first valley scene, in which Fone Bone stumbles upon the valley for the first time, and the trees and mountains fill the page deeply and beautifully. Later, when I really got into the series, I admired it for Smith's great storytelling – He is able to weave comedy, suspense, drama, and a lot of character into these apparently simple beings. Even later still, I began to admire Jeff Smith's clean and concise (yet somewhat cartoony) linework and especially his inking. If there was ever someone who inspired me to take up ink and pen, it was Jeff Smith. Check out his work if you haven't already – you won't be dissappointed!
Going further back into my early childhood, Tintin was a heavy influence that really drew me to the world of comics. Of course, Uncanny X-Men, Sonic the Hedgehog, Disney comics and more followed up, but at first, it was always Tintin. It's probably because my dad's side of the family was born and raised in Paris (where everyone has the entire set – I've been in many French houses, and even the poorest does not go without their Tintin comics), where Tintin is very popular. I loved to read through the well thought out adventures, and the detail of some of Herge's spreads was just amazing. I find that I enjoy doing large crowd scenes and, even though I'm not too good at it, people seem to enjoy them a lot too. And I'm also a great fan of Herge's art movement, the clear line look (which I think Bone might be a part of as well).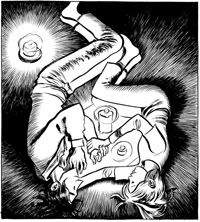 During my college years, I became enamored with a beautiful love story by Craig Thompson, called Blankets. This lovely black and white (because, like Bone, the author and artist inked all in black and white, and the result had wonderful and wonderfully different affects) tale was bittersweet and real, and made me turn my attention to the somewhat new genre of autobiographical comic stories. I began to turn my back on my fictional characters (though I still enjoy drawing them) and started to look for a style that would suit me in my own autobiographical comic. I'm still looking for it, in case you were wondering.
Lastly, Scott McCloud's help books about writing and drawing comics was a huge help. Above and beyond any regular "help" books you might find, McCloud's book is entertaining and complex, in addition to being helpful. He really helped me get my act together and inspired me to put pen and pencil to paper for a purpose, and not just let my ideas die in oblivion.
I hope you have the time to check out these guys and their great works! Maybe next time I'll talk about some smaller titles that have also inspired me in some way or another.