Thursday, November 20th, 2008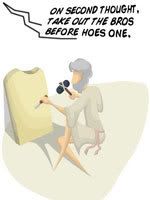 Hi all, sorry I've been less-than-diligent on my blog updates below.  I've had such scant few hours of personal time a week, that I figured I would dedicate them to updating the comic, rather than my blog.  You can follow my updates on life in my Twitter and talk more on the Nerdcomics Forums, but it's all just been crazy hectic busy. My job (as comicked here) has gotten crazy-go-nuts, but I guess that means I won't get laid off. And another plus, I'm moving in a month! Horay! (although I wonder if that will make me any less busy… * looks around for guests comics shiftily*) Seriously though, if anyone would like to/are inspired to draw me a guest comic for sometime in the month of December, it would be greatly appreciated because I know I'll be very busy trying to keep up with moving, work, art, and the holidays.
I'd like to take this time to thank the awesome guys at I Can't Draw Feet for giving me a great shout out today! Their comic is just wonderfully hilarious and well done – I'm flattered that talented writers and artists might find The Glass Urchin likable. I would say to check out their webcomic, but I'll bet you've already read it on your own or have come to The GU through their webpage.
I still miss my Ashes… Coming home home isn't the same without you to greet me at the door.