Monday, February 2nd, 2009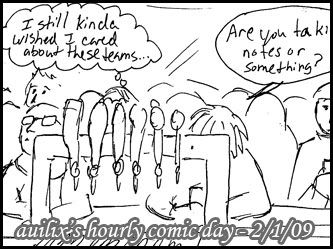 So I participated in this year's Hourly Comic Day (along with tons of other people) and it was a lot of fun! My hourly comics can be seen here (please comment!).
It was really tough for me – I'm not good at drawing myself (not as a hedgehog) and Mike, drawing backgrounds, having legible handwriting, or drawing quickly and sporadically, and of course HCD needed all of that!! Not to mention I am sure no one is good at drawing while on vehicles, which I also had to do several times. But still, I had an eventful day, and I still (somehow) managed to keep up with it. So I'm proud for that. What do you guys think?
Be sure to also check out some of the others on there, there were so many extremely talented people who did comics that I was really surprised! I don't know how people managed to do all that they did and STILL draw amazing or funny comics. It's a lot harder than it looks!! Some notable other webcomickers who did this are – Kncomics (from Of Snakes and Apples), Jamie Baldwin (from Sudden Valley), and Kory Bingaman (from Skin Deep). Did I miss anyone?