Monday, June 8th, 2009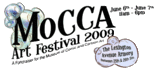 So let me begin by saying MOCCA was hella awesome. Also hellishly hot! I'm surprised so many artists came and hung in there, as the building MOCCA was in was just boiling and full of dead, recycled air. Yet we all hung in there and managed to enjoy ourselves to boot! Hah! Take that, 69th Regiment Armory!
Anyway, because the whole weekend was so full of craziness and excitement, I'm going to have to split it up a bit! I'll post a follow-up to this soon.
To give you some background, Bree and myself had been wanting to go and present at MOCCA forever (well… basically since when we first heard about it last year). We signed up promptly on the day registration opened, but we somehow became 16th on the waiting list. Then, three weeks ago, the MOCCA people alerted Bree that we'd actually successfully gotten the table! OMG (due to my own personal qualms with getting anything ready in two weeks, I had to back out from the original plan of taking half the table… I'm a super super slow artist)!! However, Bree really pulled through and in addition to her snarky bag (which got a lot of laughs at the fest), she pulled together two fun mini books in two weeks.
Onezumi was to appear at our table too, but at the last second backed out due to crazy and unfortunate unforeseen circumstances, she couldn't make it. And then, at the very last second, who pulled out of the blue for us? Why it was Darren of Hello with Cheese/Dear Pirate/Experts Guide!! What an amazing chap! So as you can tell, MOCCA was already pretty crazy and it hadn't even started.
After working our asses off (I made mini-books of GU, a pin set, and a greeting card set, I'll post pics later), we decided to unwind the Friday night before the show by going to Hope Larson's very fun Drink and Draw Like a Lady! Although the space and permanent red room lighting didn't really allow for too much drawing, we had a lot of fun meeting all the ladies. Bree and I met some cool cats, including Kate Beaton (omg! her first time in NYC! I hope she enjoyed it!), Jess Fink (who had awesome earrings and oh… NSFW), Meredith Gran, among others. We also chatted with Randall Munroe (who was decidedly NOT supposed to be there, but who did a sketch-off with Bree) and Rosemary Mosco who is very talented and cool (and she should get back into the comics stuff!!).
We drank, drew (a little), socialized and were merry! And then we went to have two spoons of Chinese food. And then went home to sleep for the big day… Stay tuned for the next MOCCA entry!