Wednesday, December 16th, 2009
Wonder where you can find some more Ami art? You should check out these other fine comics!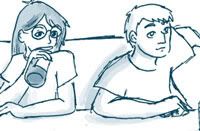 First up I did a guest strip for C.S. Snow's indie rock theological soap opera, Sordid City Blues. It's an interesting webcomic, and I especially liked the latest story arc about the band tour (even though it didn't much involve my favorite character). I took a departure from my usual coloring style by drawing in bluescale!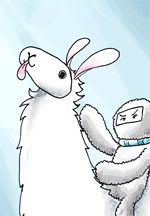 Then check out my submission to Brian and Amu's soft and cuddly webcomic's, Amu's World, first year anniversary Fanart Contest! And I won too! Err well… so did the other contestants! But I can't wait for an amigurumi from the talent Amu and an amazing print by Brian! These guys are so talented – you

have to check out the detail and care that goes into every one of the strips.
Lastly a submission just cause to best bud Bree. I've linked to her comic about 200 times, so if you didn't go the first couple of times, now's even more of an incentive for ya: I drew her a guest comic she used the other week!