Tuesday, January 27th, 2009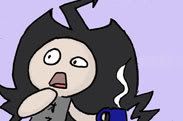 What's Onezumi gasping about here? Find out in my guest comic to Onezumi!! This was based off a Twitter conversation from a while ago about the continued mis-pronunciation of her name (even though it's written right on her shirt!).
Onezumi is a fun comic that used to be crazy and random, and is now crazy and random with a continuing plot and storyline. Where will the adventures of Onezumi, Harknell, and Ass Munkey take us in the depths of the Deathside?
Onezumi as a person is also crazy and random and a lot of fun. She's a pillar in the webcomic community and is continuously supporting other webcomics, no matter how small, and encouraging people of all different art, style, and themes to join in. She's been a real inspiration to me to make The Glass Urchin, and through her I met some other great webcomickers who are talented and supportive (The AFHS guys, Dern, and Jamie Baldwin to name a few). Her hubbie and webmaster Harknell makes Awsom.org, a neat resource of tutorials and extra plug-ins for the webcomic and art community to use. Please check Onezumi and Harknell out!